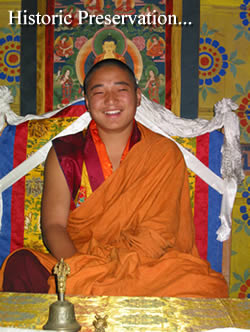 Sewala Jamgon Tulku, who resides at Sewala
If Bhutan had a "center of peace" it might be Sewala Sanctuary. This famous monastic university has produced most of the Je Khenpos—the spiritual heads of all Bhutan.
To make the eight hour ascent to this "sanctuary in the clouds" is to feel one has arrived at the heart of Bhutan. Yet these ancient painted walls are caving in, supported by beams that strain to prevent young monks from being crushed. The building is so damaged that the students must sleep outside. Kerosene, used for cooking and heating, is carried up to Sewala by barefoot monks from the distant valley below. The kerosene causes eye and lung problems.
Despite such hardship they still carry on with great fortitude to keep the heart of Bhutan's precious teachings alive.
These young people need a place to live and pray. They need electricity, not kerosene. With your help we can restore this deteriorating cultural institution, while providing livable quarters for these future spiritual leaders of Bhutan.